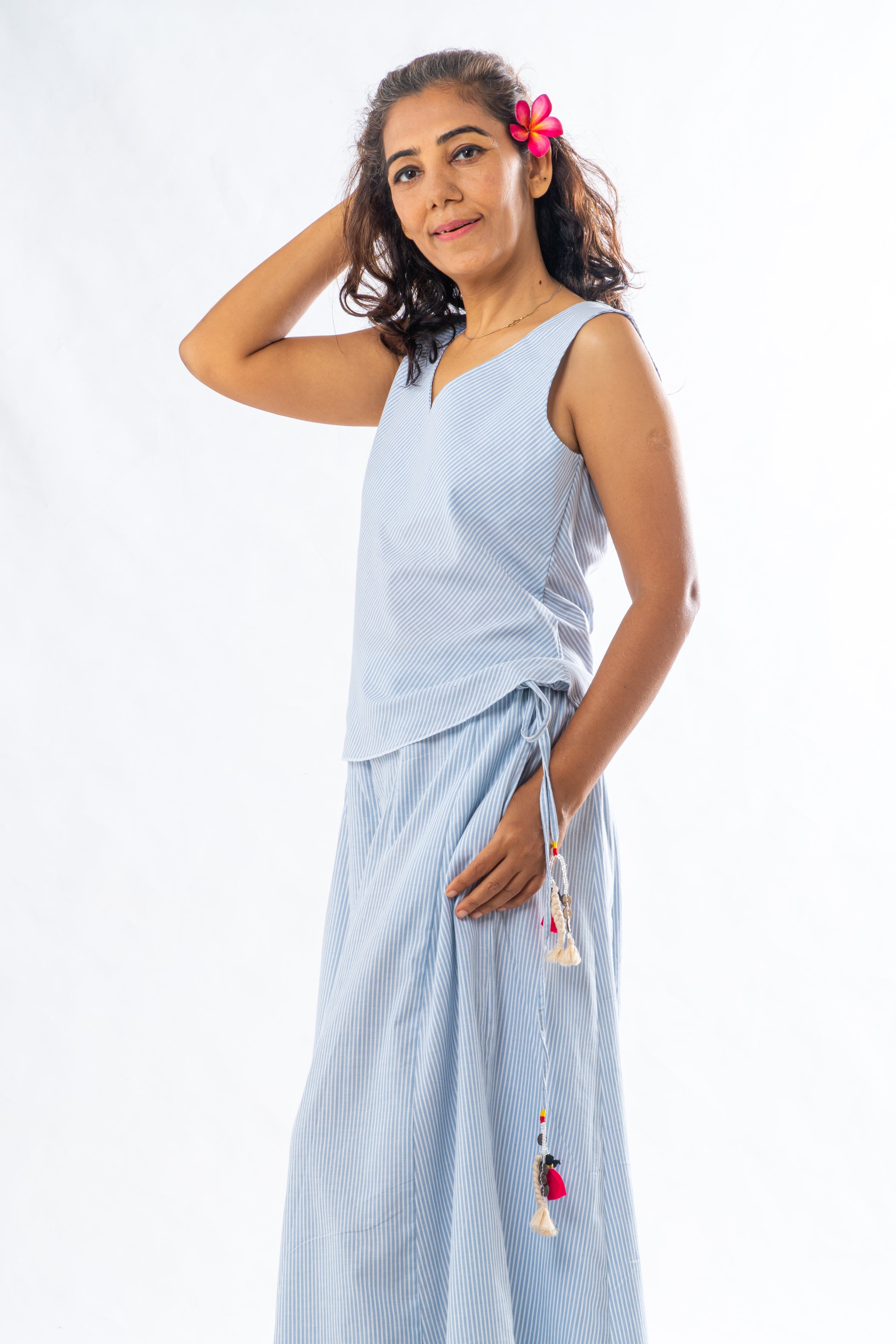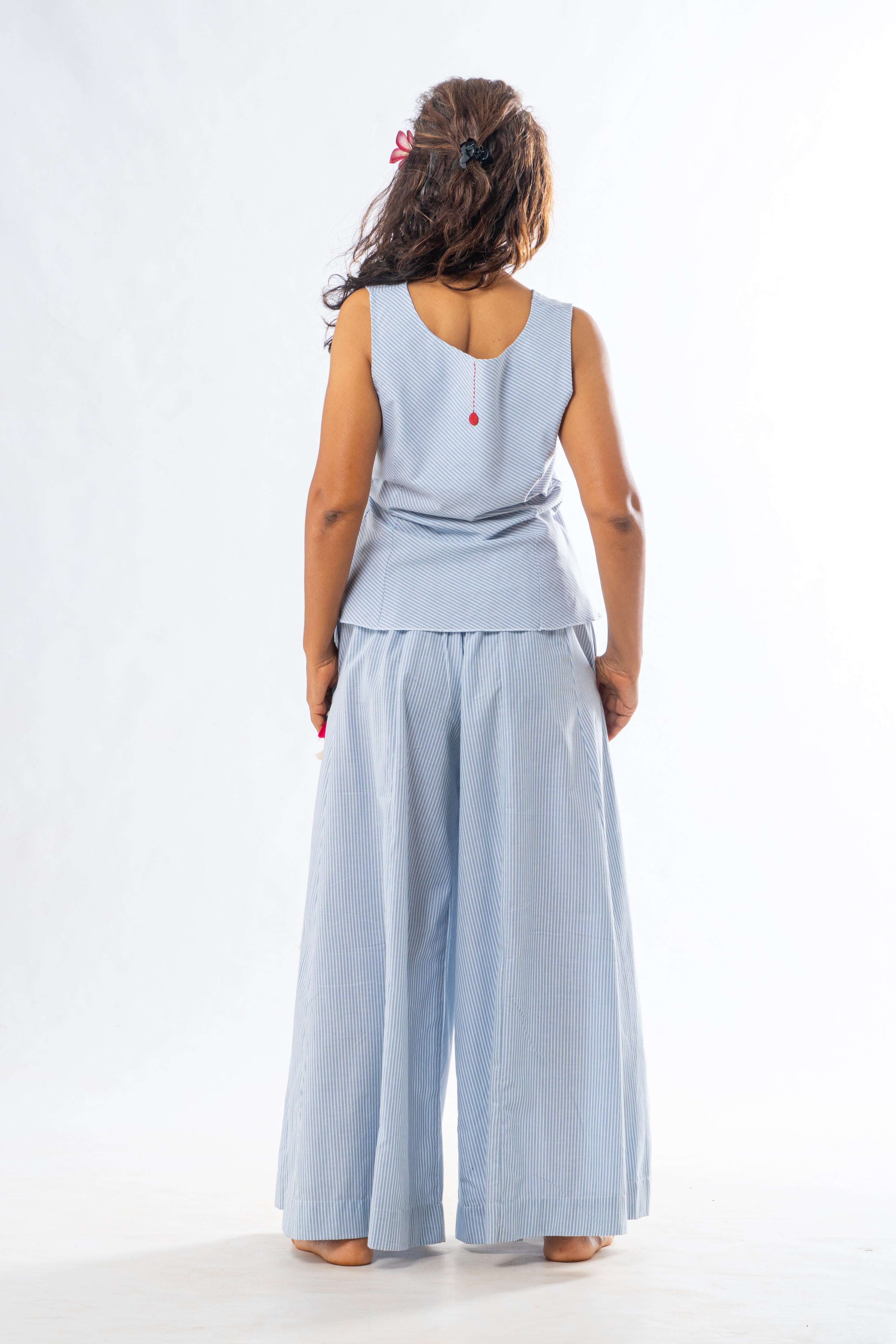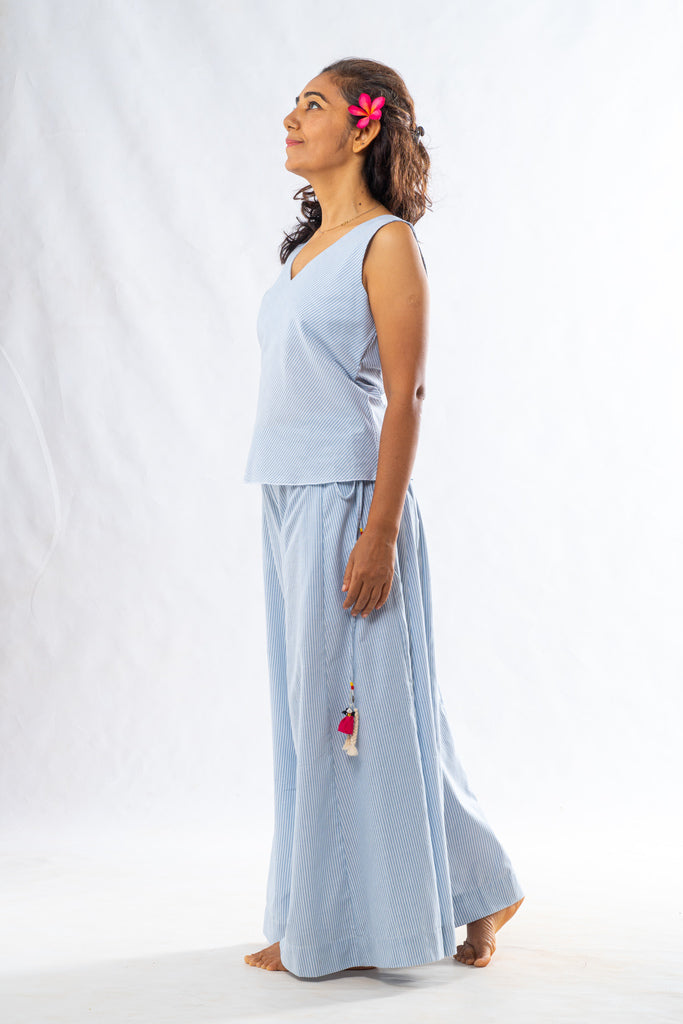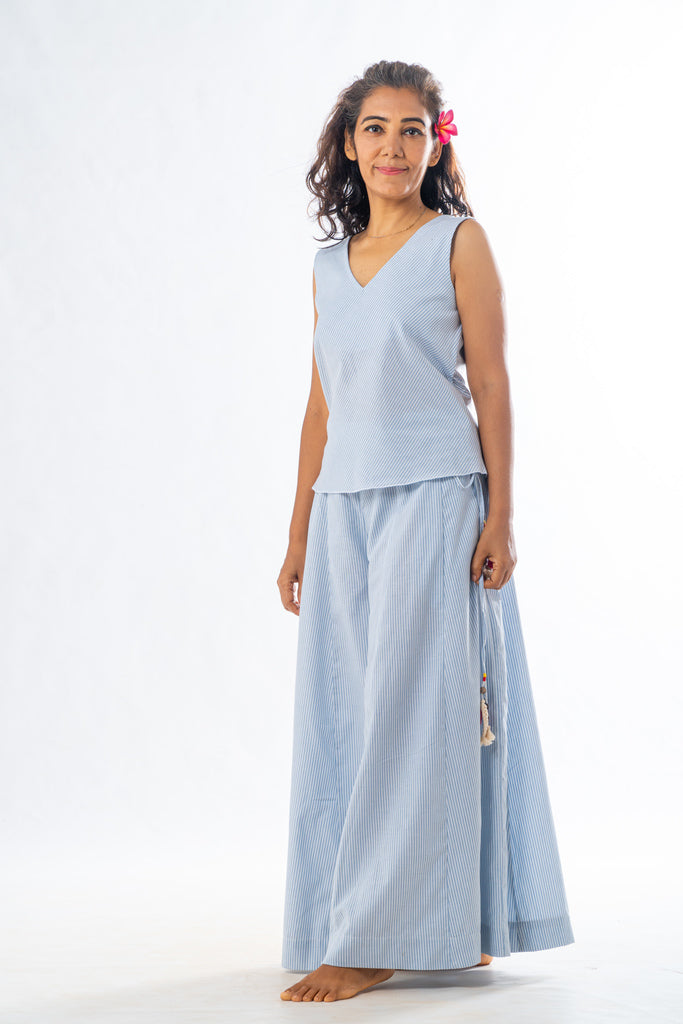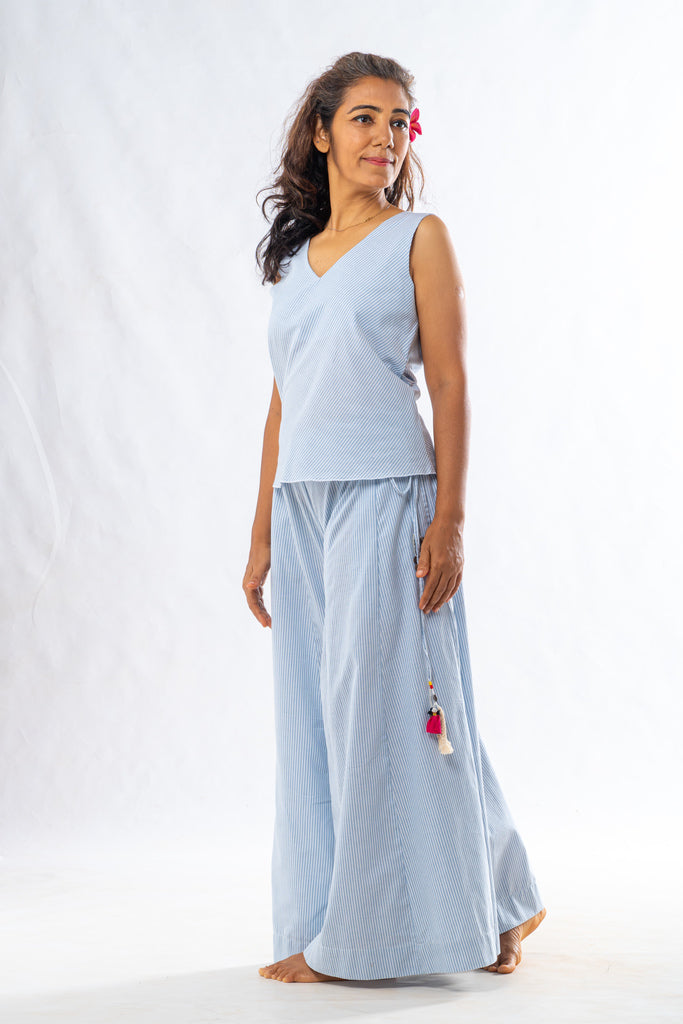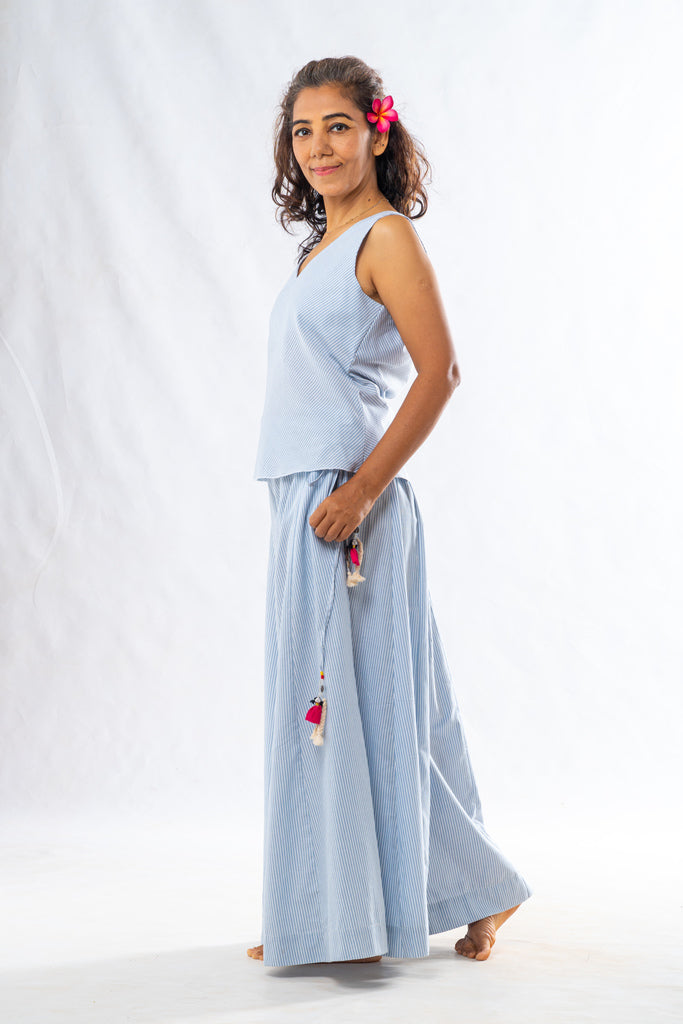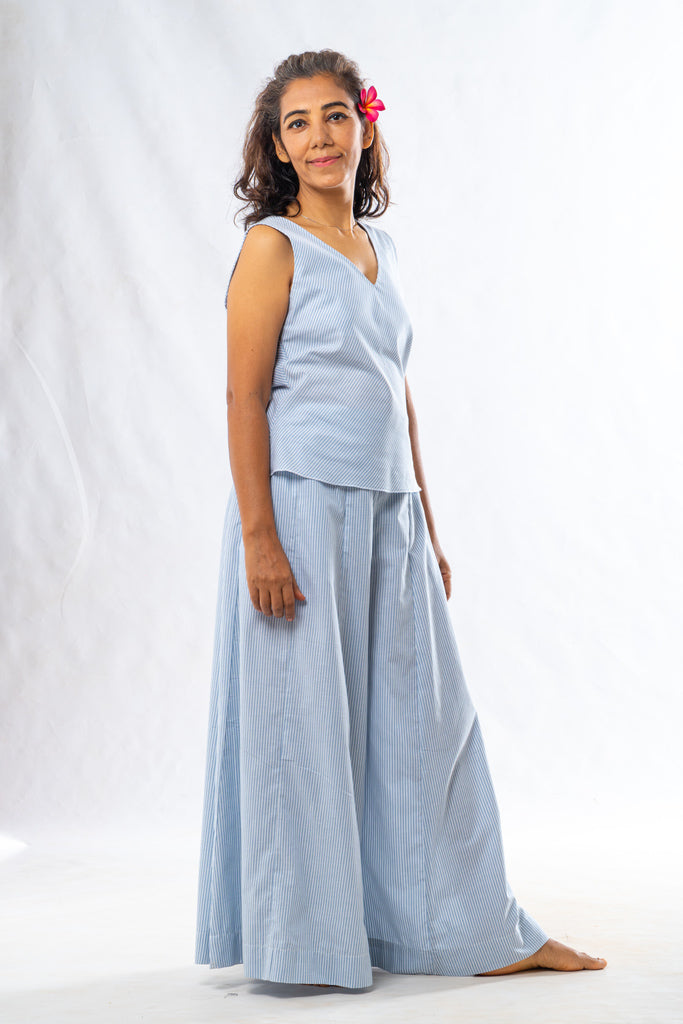 "Blue Stripe Co-ord Set," crafted with the utmost care using premium organic cotton. This versatile set is a perfect blend of style and sustainability, designed to elevate your fashion game while minimizing your environmental footprint.
Elevate your style quotient with this monotone Co-Ord that is high-end on fashion appeal and super comfy on feel! Samar set is a hand-picked choice of upasana. Combine style and comfort with the timeless and versatile Samar set. Upasana's hand-picked design lets you elevate your fashion statement with ease.
The matching bottoms are designed with the same attention to detail, offering a coordinated look that's both trendy and tasteful. The elastic waistband provides an adjustable fit, making it ideal for all-day wear. Whether you're heading to a casual brunch or a stylish evening event, this Blue Stripe co-ord set has you covered.
An enhanced tassel and pockets are featured in this blue stripe co-ord set, which is the hand-picked choice of Upasana. This set is perfect for long days spent outdoors; you will be kept cool, comfortable, and stylish by its lightweight material.

Make a bold statement not only in style but also in your commitment to sustainable fashion. Experience the comfort, elegance, and eco-consciousness of this stunning co-ord set, destined to be a staple in your wardrobe.
Color: Blue
Fabric: Organic Cotton - 

is made of carefully selected organic cotton grown without pesticides

Stylish Blue Stripe Design
Coordinated Look:This set includes both a top and bottom, ensuring a coordinated and effortless outfit. The pieces are designed to complement each other, creating a cohesive and fashionable ensemble.
Comfortable Fit: The organic cotton material is renowned for its softness and breathability. You'll feel comfortable and confident all day long, whether you're running errands, attending a casual gathering, or simply lounging.
Versatile Styling: The co-ord set allows for versatile styling options. Wear the pieces together for a complete look or mix and match with other items in your wardrobe. The top and bottom can be worn as a set or paired with different pieces to create new outfits.
Conscious Fashion Choice: By choosing this organic cotton co-ord set, you're supporting sustainable and eco-friendly practices in the fashion industry. You're making a conscious decision to minimize your environmental impact without compromising on style
Easy Care: Our co-ord set is designed for convenience. The organic cotton material is easy to care for, making it a practical addition to your everyday wear. Simply follow the care instructions to keep it looking great wash after wash.
Wash Care: 

                   - Wash separately with similar color 
                   - Use mild detergent
                   - Do not soak
                   - Dry in shade only                   
FAQ
Can you add sleeves to a sleeveless dress/top?
Yes, we can custom add sleeves to tops and dresses depending on the cut of the particular piece. Please email us on marketing@upasana.in with your custom requirement of length and upper arm measurement.
Do you have a pick up facility if we want to return an item?
Sorry, we do not have a courier pick up facility in case a return is needed.
Can I change my order once placed or make additions to my order?
Yes, changes can be made to your order if it hasn't been dispatched. You can write to us on marketing@upasana.in for the same and your queries shall be addressed.
When will my order be delivered/ dispatched?
We believe in conscious consumption of clothing. Usually an order is dispatched within 24 hours of placing an order, on occasion when a piece is specially being stitched for you as we try to keep our inventory low and make fresh pieces as per order it might take up to 72hours for dispatch. We believe in conscious consumption of clothing