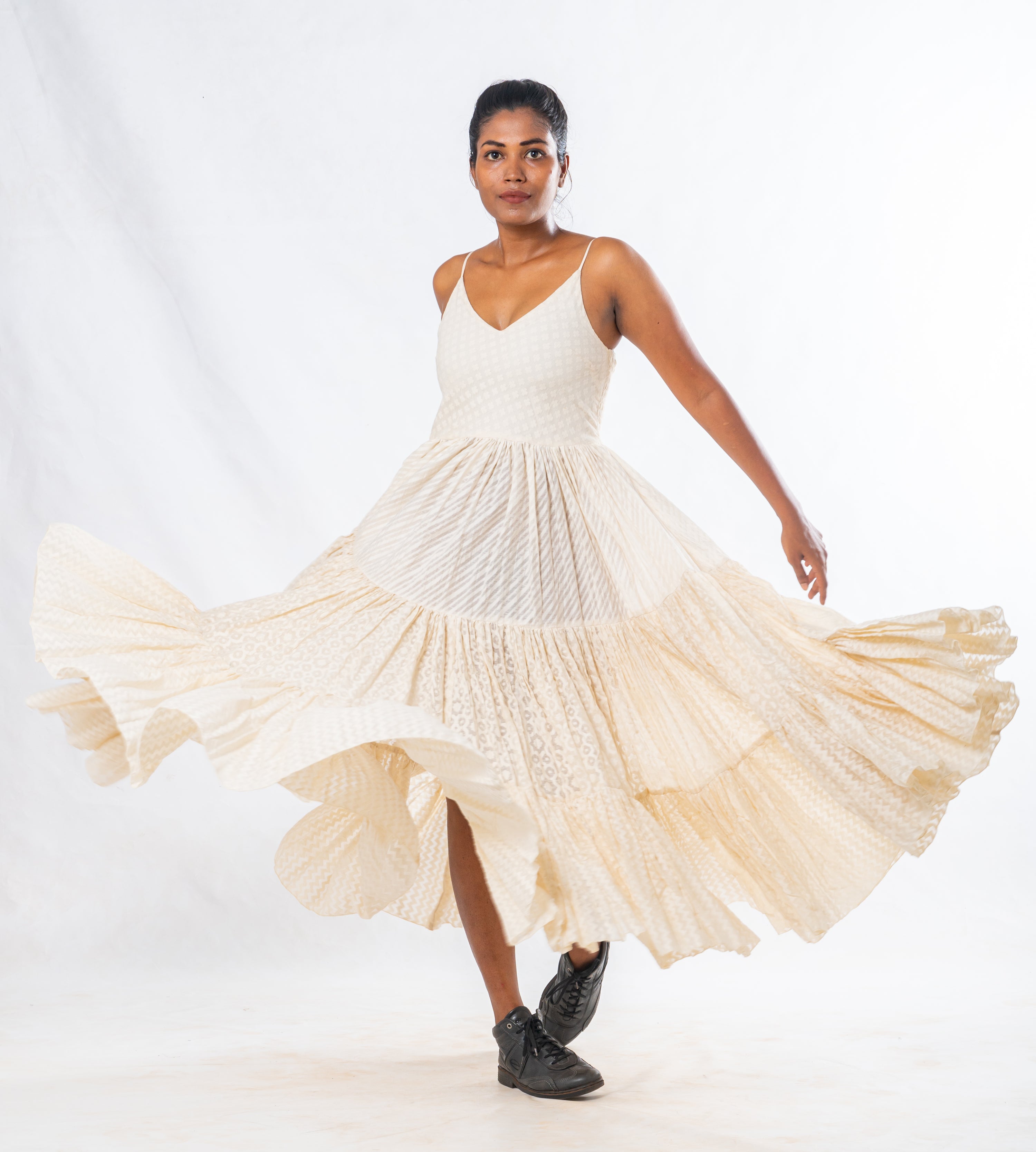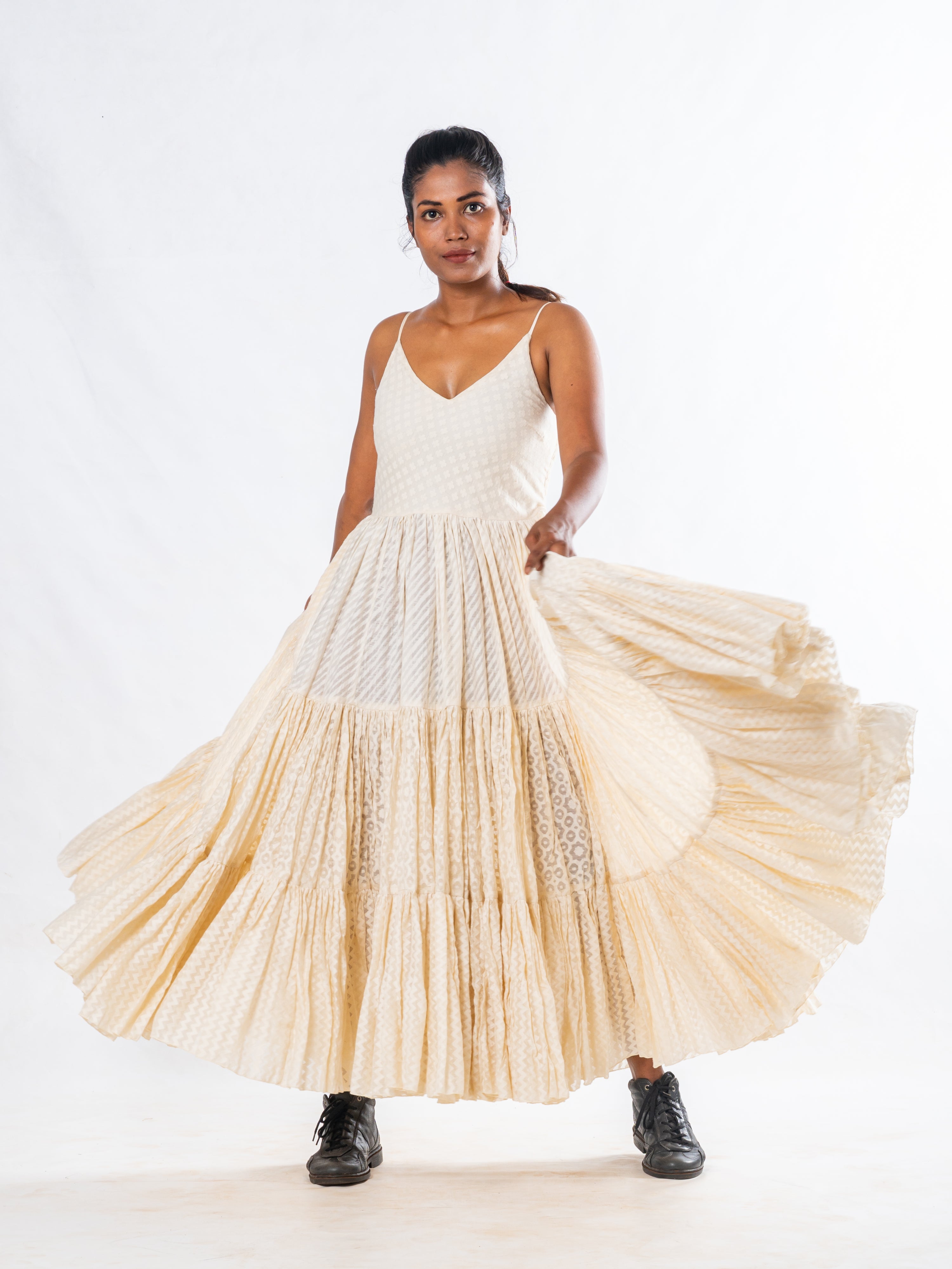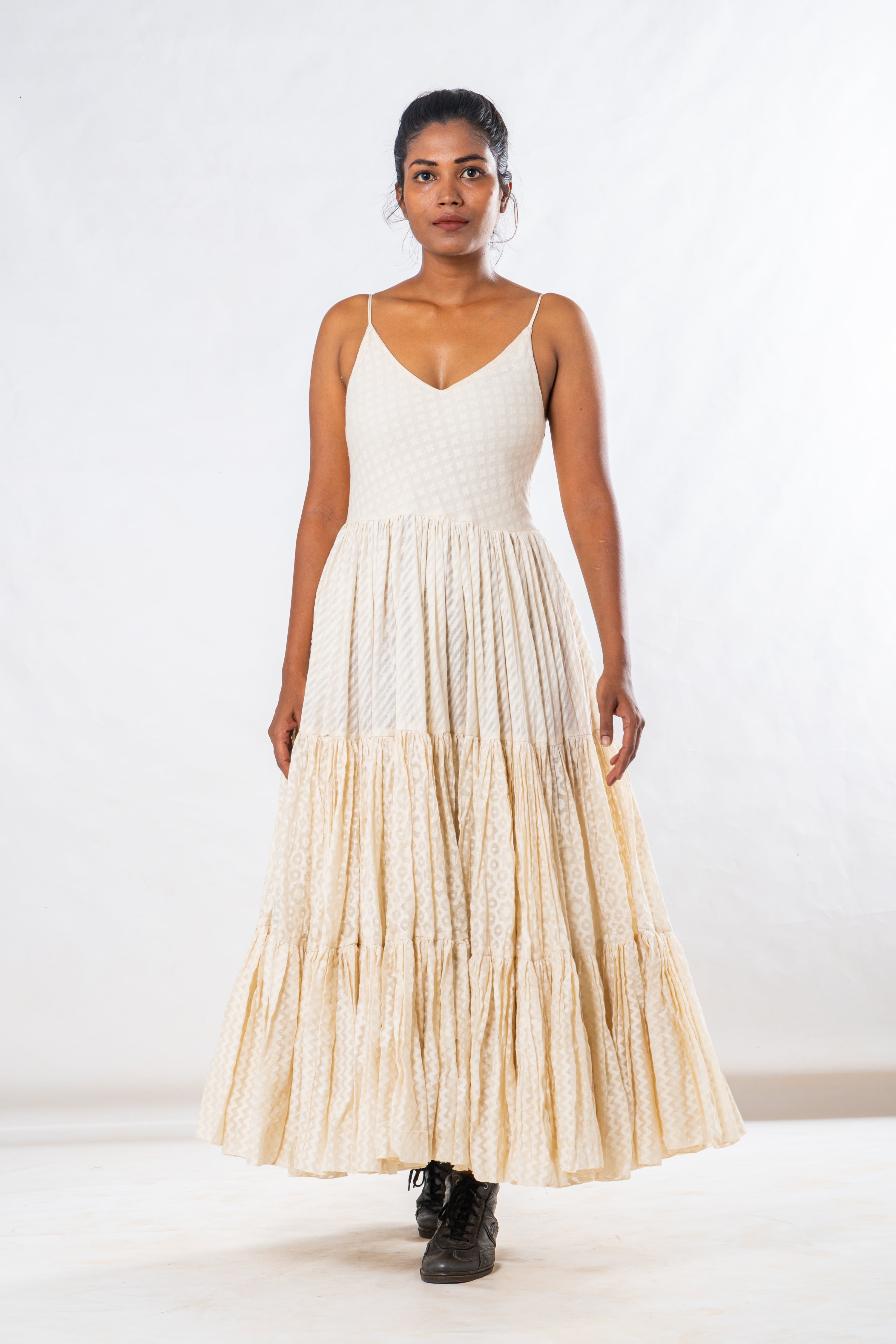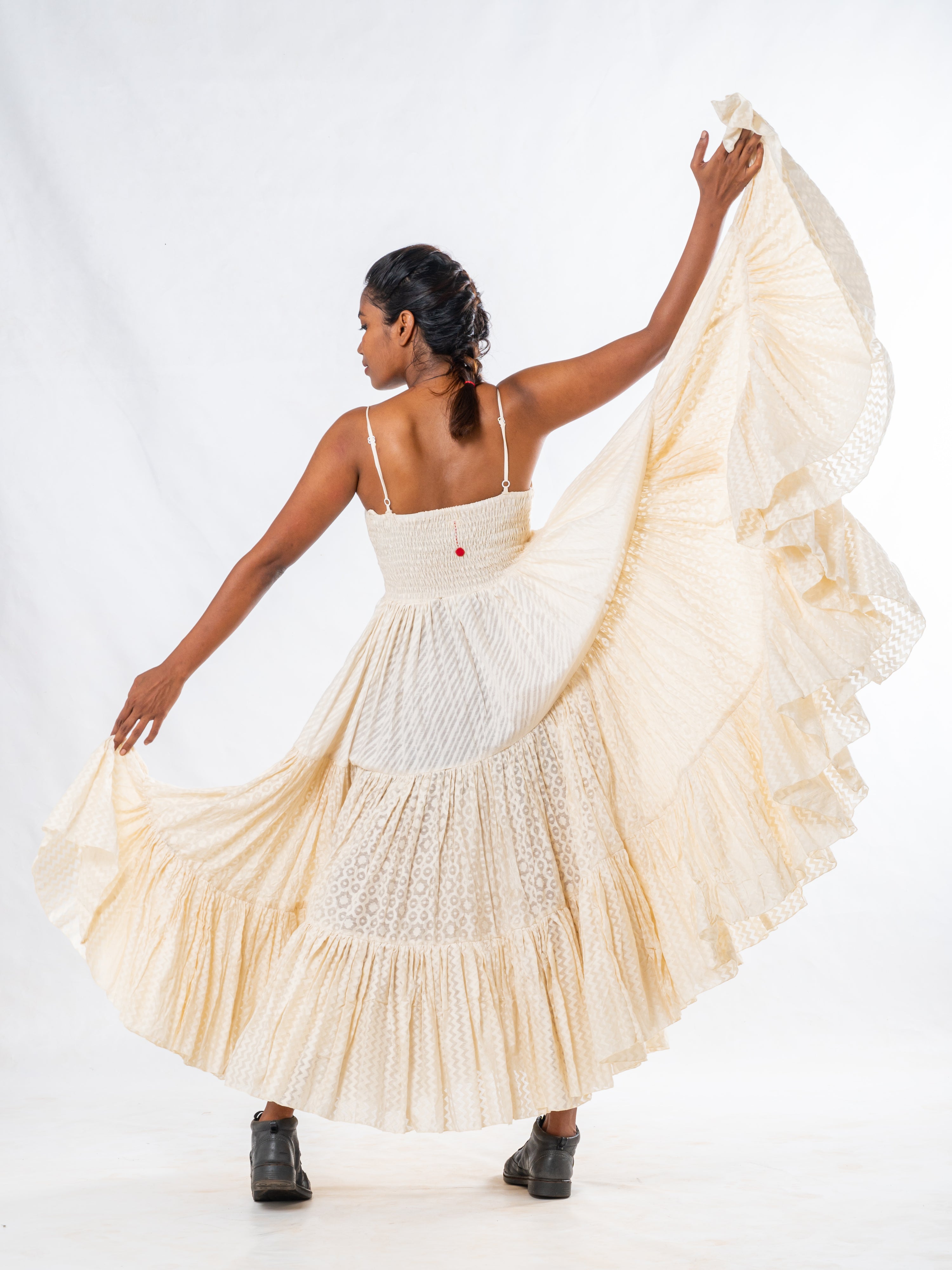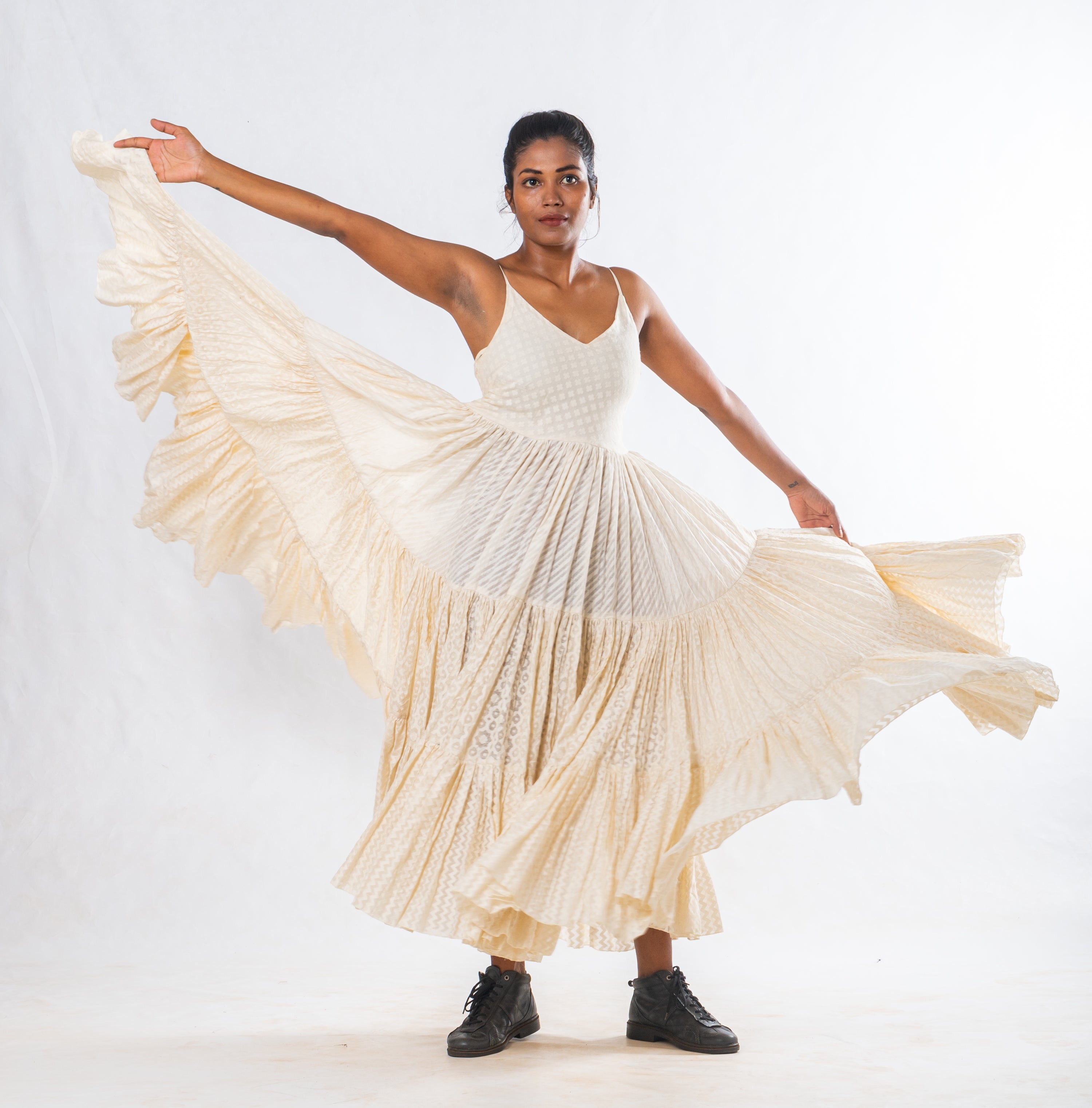 Introducing the enchanting "MAYURA" three-tier flowy dress – a masterpiece of elegance and style that effortlessly combines timeless design with modern sophistication.
The enhanced V-neckline is thoughtfully designed to enhance your natural features while maintaining a refined and tasteful appearance.
Adjustable straps provide a personalized fit, ensuring that the dress drapes over your silhouette with utmost grace.
The allure of the MAYURA dress is further heightened by its exquisite choice of fabric – the luxurious elegance of silk. The smooth, flowing texture of silk adds a touch of opulence to your attire, while its natural sheen catches and reflects light, creating an ethereal glow around you.
The off-white color of the dress adds a sense of purity and sophistication, making it an ideal choice for a wide range of occasions.
FABRIC :
silk and cotton cut work fabric is woven in Banaras known for its mysterious transparency and elegance .It is soft smooth, lustrous and holds a prestigious place among textile fibres .Silk is a natural protein fiber, some forms of which can be woven into textiles. The protein fiber of silk is composed mainly of fibroin.
WASH CARE :

Dry clean only

FAQ
Can you add sleeves to a sleeveless dress/top?
Yes, we can custom add sleeves to tops and dresses depending on the cut of the particular piece. Please email us on marketing@upasana.in with your custom requirement of length and upper arm measurement.
Do you have a pick up facility if we want to return an item?
Sorry, we do not have a courier pick up facility in case a return is needed.
Can I change my order once placed or make additions to my order?
Yes, changes can be made to your order if it hasn't been dispatched. You can write to us on marketing@upasana.in for the same and your queries shall be addressed.
When will my order be delivered/ dispatched?
We believe in conscious consumption of clothing. Usually an order is dispatched within 24 hours of placing an order, on occasion when a piece is specially being stitched for you as we try to keep our inventory low and make fresh pieces as per order it might take up to 72hours for dispatch. We believe in conscious consumption of clothing